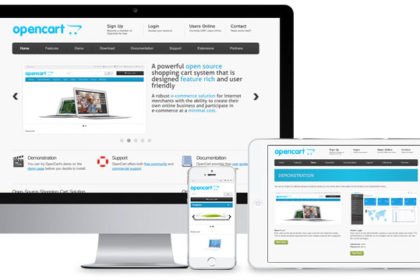 Why opencart is best for ecommerce website?
OpenCart is a system based on the Model View Controller pattern.
If you know PHP and MySQL then easy to develop this extension or customize this.
For new extension create controller, model, view and language file.
User-friendly administrative dashboard.
All menus that use in OpenCart is simple and user-friendly.
You can easily add or delete data according to your need in a very simple way.
You can manage all function via admin panel.
4. Documentation, forums, and articles
If any issue occurs with the OpenCart site, we can search for fix or advice in the official forum.
There are thousands of extensions and modules.
There is no reason to develop your own module until you've checked the forums and store for existing OpenCart modules.
Prices start from $10 per module, while some are even free.
5. It has two virtual file structures VQMOD and OC MOD.
If you don't have a big budget or even time to develop individual designs for your store, you can use templates.
7. Easy and fast to make your site multi-language that's why opencart is best for ecommerce website
You can translate OpenCart to any language in the world.
OpenCart is a language-neutral CMS.
UTF-8 is used in OpenCart.
Inside the admin panel folder under Catalog section, you'll find the language folder that store translation.
Translation files are just .php files with text variable.
OpenCart's multi-store mode is very useful for online stores.
It makes it easy to manage even if they have different Design, Product, Module, Customer database, Language
9. SEO-Friendly that's why opencart is best for ecommerce website
10. Functionality
11. User interface
12. Cost-effective
13. Safe, secure and free platform.
14. It supports shopping in different payment gateways. Nowadays 36 payment gateway available for opencart.
15. Provide a tool for backup and restore.
16. Generates customized reports on an essential basis to get information on sales, viewed products, and purchased products.
17. Set up guest checkout will facilitate faster sales transactions.
18. Supports an unlimited number of products, categories, customers, and transactions.
19. The design is attractive, appealing and functional.
This is the most useful tool for your website.
Through google analytics, we can monitor traffic on our website and get complete information about it.
It shows information like the number of people visiting your website, sessions, locations etc.
It can be easily accessed via our Google account. 21. Ease of Installation
22. OpenCart works with Windows, Mac, and web-based devices.
23. It is self-hosted.
24. Rewards-points system
25. Ability to set access for multiple administrators of your site
26. Option to allow product ratings, reviews, and comments on your site.
27. Built-in affiliate marketing system.
28. Integrations with most major shipping providers.
29. Ability to track your marketing campaigns.
30. The hardware and software required for OpenCart installation are a web server (preferably Apache), PHP 5.2 or greater, MySQL.
31. Advantages of choosing opencart are because of content management, administration panel, the range of available add-ons/extensions.
Important link please click on