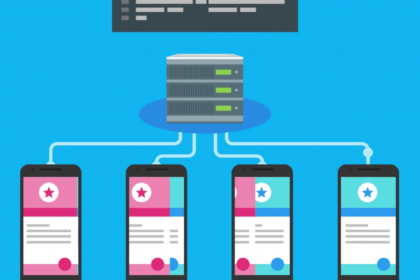 What is the use of push notification in ecommerce website?
Every ecommerce website uses push notification to inform the user about new product and offers. Before the use of push notification, let's understand what is push notification?
Push notification is also called

server push notification

.
It is a message that pops up on a mobile device and desktop. It is the delivery of information from a software application to a computing device.
It is an instant mode of automated direct communication.
Every mobile platform has the ability to support push notifications like iOS, Android, Fire OS, Windows, and BlackBerry.
It looks like an SMS (text or rich media message)and mobile alerts, But only those user use this notification who installed your app.
The message that is pushed to the user device, and not limited to the desktop and mobile. Users receive it even when they aren't on your website.
Push Notifications are clickable pop-up messages that appear on the web browser of your users' desktop and mobile devices.
The strategy behind push notifications is to offer value whether it be content, coupons, or time-sensitive alerts.
It increases your website returning traffic, improves user engagement, and help get more subscribers.
Three basic terminologies that define work of push notification:
1. Client app receives the push notification.
2. Create an app server.
3. Operating system.
We require an FCM (Firebase Cloud Messaging) key > To start sending notifications > Sign up for a free FCM account > your subscriber list gets automatically linked > This is a process to set up push notification.
1. From 2017, the push notification strategy is popular among marketers.
2. Announce about new products among the relevant audience, this is use of push notification in ecommerce website:
Buyers would know about the latest product on their wishlist are available for purchase, that they've been browsing for the last few weeks.
ecommerce website can create segments among subscriber that based on their previous purchase rate and on-site activity.
Send push notifications to these segment which directs the user to the new and relevant product.
3. Announce about the sale is the use of push notification in ecommerce website:
These notification work similar to the previous, that is Announce about new products among the relevant audience. Only the difference is that the urgency factor used more strongly.
Urgency can be created by setting up a fixed time for the sale or only selected products to be part of the sale.
Most ecommerce websites use both combinations. And this is only happening with the use of push notification.
using push notification, it periodically reminds user how long the sale is open or how many products is still available for sale.
4. Get authentication from unacknowledged users:
Ecommerce website encourages the unacknowledged user to log in their site to get discount or offer.
Web push notification is the best way to send the message among people.
Push notification helps to increase traffic to the website.
Authentication is most important to ecommerce website because it helps to better analyze user behavior.
All the information we found like browsing, adding to cart, purchasing etc.
Login will help to track single user activity across multiple devices.
This is the use of push notification in ecommerce website.
5. Personalized offers and promotions based on on-site behavior:
In personalized offer and promotion, if a user spends more time in a particular page then instantly send the offer of that particular product.
By a notification, you can check the behavior of the customer.
If the customer does not buy any product within 15 minutes, again send the push notification about another offer.
This is how we analyze the customer's on-site behavior. Purpose of this notification is to analyze the activity of users in real-time. And send the instant notification about any offer or promotion.
This is the use of push notification in ecommerce website.
6. Recover the abandoned carts:
One of the very effective ways to recover abandoned cart is to send a push notification to the user who has abandoned the cart.
The user browses various product and adds some item to cart. Sometimes, the user wants to compare the price or quality of the product on the other website before making a purchase. Due to this, the user may forget about an item that he selects before. And another reason for cart abandonment is that maybe during the checkout process, user distracts by something.
By sending a notification we remind the user about their selected cart.
The ecommerce website has an ability to recover lost revenue from cart abandonment.
This is the use of push notification in ecommerce website.
7. Inform the buyer of shipment of purchase, and delivery:
8. Push notifications have higher CTR compared to email, making them more effective.
9. Web Push Notifications are not blocked by ad blockers.
10. Seasonal Sales / Holiday Offers:
By push message, you can welcome a new season with exciting offers on fresh arrivals. You can announce upcoming sales of the new collection.
Festival is the time when the user looks to shop sweets and gifts to their friends and relatives.
This is an amazing opportunity to convert both existing and new customers with exciting offers or discounts.
This is the use of push notification in ecommerce website.
11. Price-drop, Stock, and Re-targeting:
Some customer always adds the product to their wishlist and think to buy them later. If there is a price drop on the product then they buy that listed product.
When the user wants to buy a particular product but that product is out of stock. Then with the help of push notification, we re-target that user to make a purchase for the product.
This is the use of push notification in ecommerce website.
12. Reminder:
By push notification, we remind customer timely about the product.
We can set Pre-sale reminder, Last minute reminder, Coupon expiration reminder.
Build loyalty with an individual offer.
This is the use of push notification in ecommerce website.
13. FOMO notification:
14. Location-based messages: